I am starting to think about Christmas and buying things here and there, especially for Jane's stocking. I wrote about
some of the things I put in her stocking last year
.
I've been stocking up (get it?) on little giftie items, and I had some good finds at CVS of all places at the end of the summer. I got some bubbles and a jump rope and other summery things that are thankfully still mostly usable here in southern Louisiana during December. (And if not they're still fun to open and she can use them when spring rolls around in January - HA!) I meant to check out Halloween clearance to see if I could find any small goodies that would be appropriate for a stocking (or maybe even to stuff Easter eggs in March), but I never made it to a store in early November to check it out. D'oh!
I also have some extra Play-Doh from the
"Doh Glad You're in My Class"
birthday giveaway, so those will be going into her stocking and really filling it up. I have bought a few things from the Target dollar spot too -- cute glitter bows (what am I thinking?!) and a small stamp set (REALLY, what am I thinking?!). I'm also going to put some of the things I bought for our trip to Oklahoma into the stocking. I WAY over-packed for the plane and the wedding itself. Jane was good on the flights with her tablet and headphones, plus a toy or two. And at the wedding she just used a 50 cent notebook and a new box of ultra-washable crayons to entertain herself for about an hour. I don't think she'll mind me reusing a couple of the Imagine Ink Mess Free Marker books (mostly from Target at ~$3 a pop) -- they're still brand new and she didn't look at them too closely so should be good for the stocking.
I'm starting to think about gifts for her too. I love the idea of something you want, something you need, something to wear, something to read. But what she
wants
is a giant dollhouse or Elsa castle or $400 drive-able plastic car. Uh... I did buy a
cash register
that I've had on her Amazon wish list for a while when it was 50% off yesterday. I'm excited about that one, so it could count as a want, because she plays pretend shop a lot.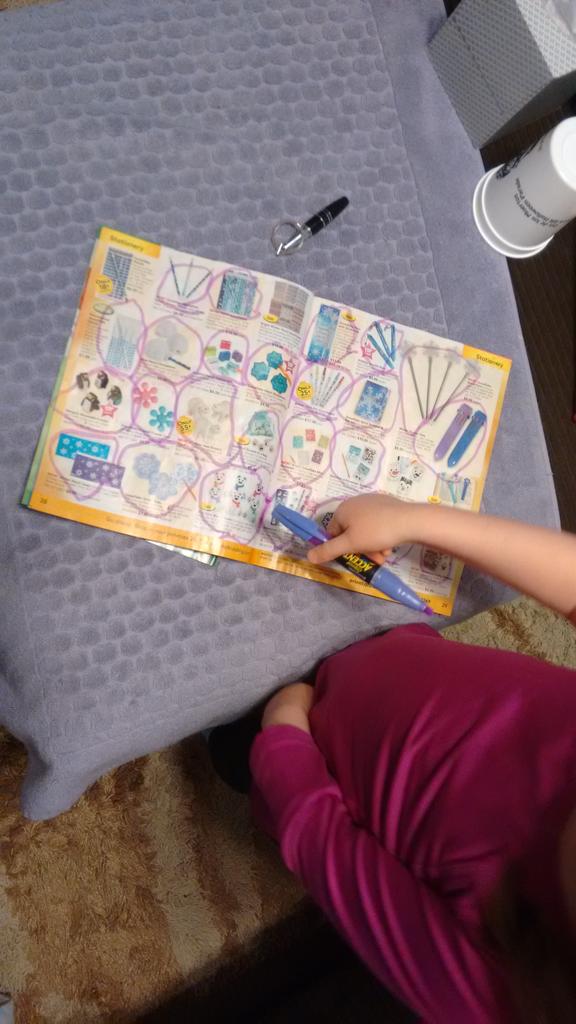 For something to wear I'd LOVE to get her a pair of Thomas PJs. She had some when she was little, but they fit before she knew what Thomas was and now she's a big fan. I can only find pajamas in size 4T, and those don't fit her that well. She's just tall, and I'd hate to buy something that she can only wear for a few weeks before they'd really not fit anymore. SO - if you happen to see any regular sized (S, M, L) Thomas pajamas let me know! Otherwise maybe some other style of bigger PJs for her "something to wear," although really she has enough to make it through the winter from what I bought on various outlet mall shopping trips. And she already has a gorgeous dress she can wear for Christmas thanks to the wedding we went to earlier this month!
Reading is easy, as I've placed an order with Scholastic and can always buy more books and have ideas on her wish list. I'm thinking about this
compendium of George and Martha books
. We've read all of them from the library and love them. So funny. I asked Jane if there's a book she'd like and she said "a short Curious George," so we'll see about that too.
Jane is finding her "wants" by looking in catalogs. It's so funny because she just circles everything basically, and she leaves off some things I know she'd really love. She also just got
a ton of gifts for her birthday
, so it's hard to think about giving her MORE. That's the peril of an end-of-year birthday I guess. She has enough cushion that I'll be able to get back into gifting mode no problem. But that might be harder on my wallet if I could get better deals now.
Shawn has a few things still to give her from his travels to China and Norway this year, so those will be good (and maybe some could fit in her stocking?!).
She doesn't really NEED anything because if she needs something I pick it up. So I may have to think on that one some more. I did get her some new hair elastics -- the tiny plastic kind to pull up just part of her hair -- and I'm going to save those for her stocking and they're a need. I'll also throw in a new toothbrush and one of the several toothpastes from the linen closet (I do that in Shawn's stocking too -- his is always pretty skimpy!).
Do you have any other good ideas for little girl gifts or stocking stuffers?
Some affiliate links used.